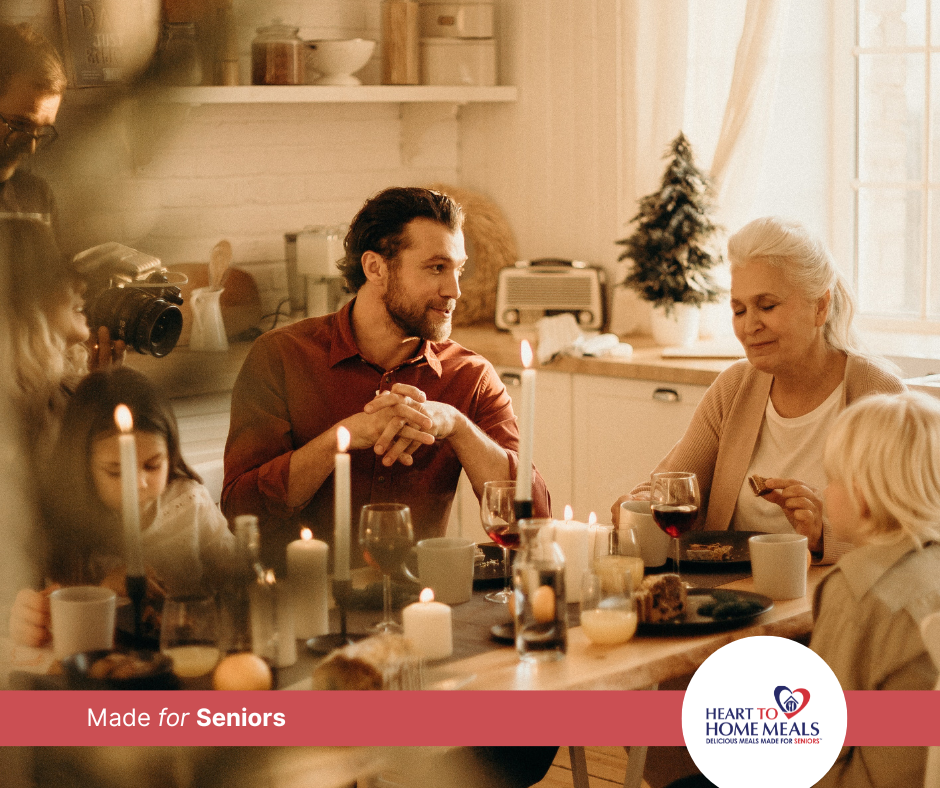 The holidays are a time for family, friends, and of course, food! Whether it be a classic spread or eccentric family tradition, a holiday meal is filled with memories and celebration. Heart To Home Meals aims to bring the taste of the holidays into your home without any of the fuss, making it convenient for seniors to enjoy delicious, nutritious, and heartwarming dishes during the most wonderful time of the year. Check out our favourite meals that are sure to spark some holiday cheer!
Turkey with Cranberry Orange Sauce
It's hard to imagine the holiday season without a classic turkey dinner and all the fixings, and now, you don't have to. This elevated take on the traditional meal pairs roasted turkey breast slices with a tart, citrusy cranberry and orange sauce for a combination of flavours that perfectly compliment each other. With a side of stuffing, potatoes, and mashed turnip, seniors will have a well-rounded meal they can easily prepare in minutes. The best part? This turkey dinner is high in fibre and low in saturated fat and sodium, so every bite can be enjoyed worry-free.
A roast dinner for the holidays represents family, comfort, and tradition, but to get those deep, savory flavours, it takes time and effort to slow-cook a pot roast. To ease the stress for seniors during the holidays, Heart To Home Meals has prepared a tender, mouth-watering roast beef that's a perfect dish for the season. Topped with a silky gravy and served with mashed potatoes and an asparagus and pea medley, this Traditional Pot Roast is high in protein and fibre, but low in carbohydrates and saturated fat, delivering the perfect balance of comforting flavour and energy- boosting nutrition.
The caramelized yet smokey flavour of a honeyed ham is the quintessential fusion of salty and sweet, and this Honeyed Ham dish is no different! High in fibre and low in saturated fat, Heart To Home Meals has made it easy as pie for seniors to enjoy juicy slices of ham finished with a sweet, honey glaze. Accompanied by rosemary potatoes and carrots, this meal is guaranteed to get you in the mood for the holiday season.
Looking for a change from the traditional roasts and turkey? Our Homestyle Meatloaf may be the perfect alternative! Topped with a mushroom and red wine gravy, this tender and flavourful meatloaf exudes the homemade comfort that the holidays are known for. Served with the classic pairings of mashed potatoes and mixed vegetables, seniors can enjoy the simple elegance of this dish while getting a boost of protein and fibre.
For seniors on the hunt for a vegetarian holiday meal, look no further than Heart To Home Meals' Vegetarian Shepherd's Pie. Replacing ground beef with hearty lentils and capped with smooth mashed potatoes, the homestyle flavours of this hearty and healthy dish are reminiscent of your favourite holiday moments. Accompanied by a vegetable medley of lima beans, corn, peppers, and onions, this meal is as full of nutrition as it is of feel-good deliciousness.
Put the pots and pans away and leave the holiday cooking to Heart To Home Meals. Explore these dishes and more HERE.