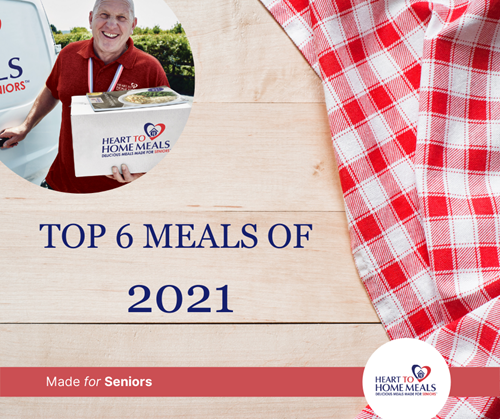 In 2021, we focused on nutrition. Our Consultant Dietitian Andre Olynyk released 10 videos as part of our Ask Andrea Video Series, where she answered your questions about senior nutrition. We also took a deeper dive into senior nutrition myths with our free E-Book, 15 Senior Nutrition Myths Debunked. Finally, our very own Chef Tim and Chef Marc worked closely with Andrea to develop 12 new delicious and nutrition meals in 2021.
Because of the wonderful feedback from our customers, we are able to incorporate new and improved recipes into our menu. Some meals, however, stand out among the rest in 2021 as being particularly popular.
Here are the Top 6 Meals of 2021 enjoyed most by you, our customers:
#6 – Turkey with Cranberry Orange Sauce
Consistently ranking among our top meals, the Turkey with Cranberry Orange Sauce is the perfect meal for the holidays. Not only does it hit the spot, but this meal is also nutritionally balanced. This meal falls into our CarbControl, Low Saturated Fat, Low Sodium and High Fibre Diet Codes.
#5 – Boneless Pork Rib Cutlet in Barbecue Sauce
If you love BBQ Sauce, then our Boneless Pork Rib Cutlet in Barbecue Sauce is for you! New to our Top 6 list for 2021, this tasty and tender Pork Rib is topped with a smokey bbq sauce which perfectly balances the sweet and the savoury. Being part of our Diet Codes, CarbControl, Low Saturated Fat and High Fibre, no wonder this meal is now one of our Top 6 favourites!
#4- Scrambled Eggs and Sausages
Who doesn't love breakfast for dinner? Another new meal to our Top 6 List, our Scrambled Eggs and Sausages is a classic take on breakfast with baked beans and fried potatoes. Not only is this the perfect traditional breakfast, but it falls under our ProteinAssist, CarbControl and High Fibre Diet Codes.
#3 – Shepherd's Pie
A regular on our Top 6 list and up from number 6 in 2020, our Shepherd's Pie is the quintessential, classic English dish. Seasoned ground beef, rich gravy, mashed potatoes, peas and carrots, simple but delicious! It's also a well-balanced meal, having the CarbControl, Low Saturated Fat, Low Sodium and High Fibre Diet Codes.
#2 – Homestyle Meatloaf
Mom made the best meatloaf, and ours is pretty close. Our number 3 favourite meal of 2020, this meal has been a staple in kitchens across the country for decades. Did you know, purchases of the Homestyle Meatloaf contribute to our support of the Canadian Cancer Society and the Relay for Life? Click Here for more info.
#1 – Chicken Teriyaki
Jumping back to the top spot for 2021, it's easy to see why our Chicken Teriyaki would be one of your favourites. It tastes just like your favourite take-out place, but you can have this ready faster and it's more nutritious! Falling into our ProteinAssist, CarbControl and Low Saturated Fat Diet Codes, it's the smarter, healthier choice.
----------
In 2021, we served up some regular and new favourites, which you thoroughly enjoyed. Chef Marc and Chef Tim are already hard at work creating, cooking and testing new and exciting meals for 2022. We are excited to bring you new meals to explore.
Have you tried any of our Top 6 Meals? Which meals would make your Top 3 list? Let us know on Facebook.