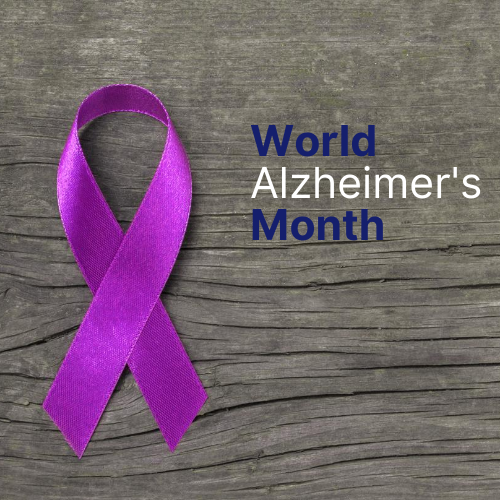 September is World Alzheimer's Month, organized by Alzheimer's Disease International. The purpose of the month is to cast a light on the illness, raise awareness, challenge stigma, and generate attention towards this form of dementia, hopefully one day leading to a cure.
One of the most life-altering illnesses we might face as we age is Alzheimer's Disease, a condition which causes brain cells to degenerate and affects memory, mobility and speech. According to the Alzheimer's Society of Canada, over 1.1 million Canadians are directly or indirectly impacted by the condition, making it an experience many people we know have at least experienced in some way. Alzheimer's is truly an illness that not only affects the person who lives with it, but their family and friends who need to provide care.
There's a lot of misinformation around Alzheimer's and this can lead to negative perceptions and incorrect stereotypes towards people who live with the disease. Part of World Alzheimer's Month is providing insight into the condition so that people can take an informed approach when working, living with and caring for people with Alzheimer's. Here's what you need to know:
What Exactly is Alzheimer's Disease?
Alzheimer's is the most common form of dementia, representing upwards of 60% of all cases. It is a degenerative condition that starts slow and gets worse over time, with symptoms that include behavioural changes, mood swings and memory loss (which has come to define the condition.) Unfortunately, there is currently no cure for Alzheimer's , which is precisely why World Alzheimer's Month is so important.
Another of the long term consequences of Alzheimer's is the burden of care it places on family, friends and caregivers. As the disease progresses, full time care is necessary for people who have the disease. Even at early stages, Alzheimer's patients need assistance with living, so long term planning is needed to maximize quality of life.
While there may not be a cure, there is evidence to suggest that taking proactive, holistic health steps can delay Alzheimer's onset or perhaps even stop it all together. Among the steps you can take is drinking alcohol in moderation, avoiding smoking, maintaining a healthy blood pressure, and keeping up age-appropriate exercise routines. It may sound too good to be true, but there is mounting evidence to suggest being healthy is the best way to avoid Alzheimer's Disease.

Stigma Faced by Those Living with Alzheimer's
One of the most important issues World Alzheimer's Day seeks to address is the stigma faced by those who face the condition -- both as a patient, and as a caregiver. There are a number of ways that stigma towards Alzheimer's can manifest, but they are universally negative, and harmful to diagnosing, treating and living with the illness.
There are many stereotypes of people living with Alzheimer's including overestimating how much the disease has impacted them, treating them as if they're not themselves, or ceasing contact in preference with talking to caregivers or partners. This can negatively impact the quality of life Alzheimer's patients enjoy, and create a bubble of isolation that not only impacts the person with Alzheimer's, but those in their lives who care for them.
Because of these stigmas, some people choose to delay getting diagnosed or seeking treatment. The idea of being diagnosed and facing the social consequences can have serious health and quality of life consequences. It's important to remember that if you ever start to exhibit any signs of Alzheimer's, seeking help at the earliest possible opportunity can have enormous positive impacts on your health and care.
Celebrating World Alzheimer's Month is a great way to encourage people to educate themselves about this disease, and combat stigmas. Other ways you can challenge ignorance is through direct communication -- being open about the condition and communicating the facts can be a good way to open people's minds to the reality of living with Alzheimer's. Don't be afraid to share what you know about the condition first hand, and challenge misconceptions as they arise -- ignorance is defeated with education.
Finding support groups is another great way to cope with any stigma you might face as someone with Alzheimer's. There are plenty of resources available for both people living with, and people caring for those with this condition. These groups can help provide you with strategies to combat stigma, and connect with other people who can become part of your support network.
Finally, providing support to organizations like Alzheimer's Disease International (ADI) which runs World Alzheimer's Month through both participation in their events and financial support through donations will help them to accomplish their mission of combatting both the stigma of Alzheimer's and the disease itself.
-----------------------
World Alzheimer's Month is the perfect opportunity to educate yourself and connect with other people who either have or care for those who have it. Even for those who have not yet felt the impacts of this condition, this is a unique opportunity to connect and share solidarity with the over a million Canadians who face it in some way.
Please share your storeis with us on Facebook. And don't forget to "Like" and "Follow" us!