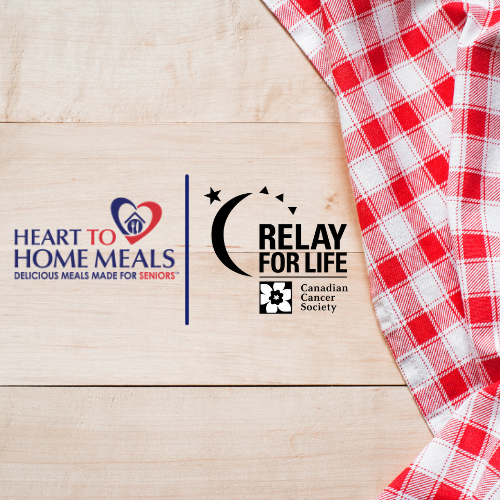 At Heart to Home Meals, we take nutrition and quality of life for seniors seriously. That's why we offer a wide variety of meals that satisfy every taste, chock full of the nutrients your body needs to stay healthy. As a leader in senior nutrition, we work closely with our Consulting Dietitian ensures all meals are created to be delicious, and nutritious, while being devoted to enhancing the quality of life and health of seniors.
As part of our commitment to being leaders in senior nutrition, and championing for all seniors to live a healthy lifestyle, Heart to Home Meals is now a proud supporter of the Canadian Cancer Society's Relay For Life, to raise funds in the fight again cancer.
Food is more than just something to eat when you're hungry. It can be a gateway to healthy living, a key to mental wellness, a major boost to your quality of life, and aid in the road to recovery.
When you purchase one of our specially selected meals, $1.00 from each meals purchased goes towards our contributions to the Relay For Life in support for those living with the disease and help enable the Canadian Cancer Society to continue their research in ground-breaking treatment, support systems and help shape health policies. (Heart to Home Meals will contribute up to a maximum of $7,000).
Try our:
Homestyle Meatloaf
Turkey with Cranberry Sauce
Traditional Pot Roast
Hunter's Chicken
Shepherd's Pie
Chicken Teriyaki
Each of the specially selected meal offers a nutritious, balanced diet, which is specifically designed for seniors.
Heart to Home Meals is a proud supporter of the Relay For Life and the Canadian Cancer Society, building on our shared mission to promote healthy eating, healthy living and healthy lifestyles.
--------------------
About Heart to Home Meals
Heart to Home Meals was established out of the belief that life should get easier for people as they age.
To make this belief a reality, Heart to Home Meals has created a menu featuring more than 200 delicious meals, soups, and desserts, prepared with the nutritional needs of seniors in mind. The food is delivered frozen for free right to the homes of seniors by friendly delivery staff.
Heart to Home Meals proudly serves communities across Ontario, Alberta, Nova Scotia, Saskatchewan, and Manitoba."
About Relay For Life
The Canadian Cancer Society Relay For Life brings together communities, united by the same goal of creating a world where no Canadian fears cancer. These events are also an opportunity to celebrate those who live and have lived in the face of cancer and those moving past cancer.
Relay is a global movement to end cancer which is active in 29 countries and 6,000 communities worldwide, whereby participants commit to raising funds for work against all types of cancer.
At the Canadian Cancer Society Relay For Life, we show the people we love that life is bigger than your diagnosis – and that no matter where you live, you don't have to face cancer alone. Relay For Life is more than a fundraiser. It unites a collective of Canadians who are force-for-life in the face of cancer. It's a chance for participants of all ages to come together and celebrate the survivors in our communities. It's a place to honour and remember those we've lost to cancer.
The Canadian Cancer Society is the only charity that supports Canadians with all cancers in communities across the country.