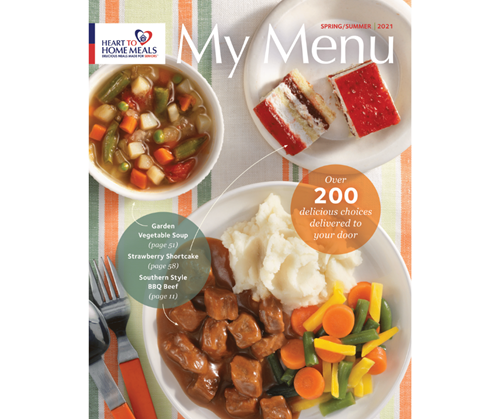 From our kitchen to your table
As winter recedes, the air warms, and the first flowers begin to bloom, it's easy to find yourself setting aside the big winter meals we become accustomed to, and look towards something a little different, fresher, and reflective of the season.
In this spirit of change, we're thrilled to introduce our new Spring/Summer Menu for 2021, featuring a selection of exciting new menu items to induce your appetite. Along with our new meals, we are continuing to offer some of the favourites we carry year-round.
The first of what's new? It's Southern-Style BBQ Beef - The smoky smell of BBQ is one of the best signs that spring has finally sprung. If you're looking for something like this, you'd be hard-pressed to do better than our Southern-style BBQ Beef, which features tender chunks of beef in a southern-style BBQ sauce, accompanied by mashed potatoes and mixed veggies.
Speaking of new tastes, we were determined to create a just as rich and flavourful meat-free version of our classic Shepherd's Pie. Try our new Vegetarian Shepherd's Pie - Just because you're looking for veggies in your diet doesn't mean you have to miss out on some rich and hearty classics. Our Vegetarian Shepherd's pie features fluffy mash potatoes spread over a delicious helping of seasoned lentils and veggies. A side of succotash completes this delicious vegetarian entree.
Here's what you can also look forward to on our Spring/Summer Menu 2021:
The flaky pastry of our tart filled with a creamy and citrusy lemon custard makes for a crowd pleasing dessert.
Enhanced with the earthy nuttiness of sesame, this diced-chicken dish is smothered in a savoury sauce. Served alongside some vegetable rice pilaf, this dish is perfect for those looking for some lighter, fresher fare after a long winter.
Stew isn't just for the colder months, as the Brazilians well know. Our take on Brazilian Style Beef Stew features delicious stewed beef cubes with a side of home fries and carrots and peas to round out a hearty and delicious meal.
For a sweet and tangy option, try our Sweet Onion and Lemon Chicken. A tender chicken breast is covered in a creamy onion and lemon sauce that perfectly compliments the sides of home fries and peas with carrots.
With all the rich and filling qualities of a traditional Spaghetti Bolognese, our vegetarian version has the added benefit of being chock-full of veggies. Lentils and beans are the stars of this dish, smothered in a tasty tomato sauce on pasta, and paired with a generous helping of mixed vegetables.
Along with brand new meals, we're pleased to announce that several of your favourite dishes form last summer's Signature Collection will now appear on our regular Menu! If you missed out on these limited-edition meals, now's the time to see why we couldn't keep them in stock very long – now is your chance to try our: Chicken Tikka Masala, Smokey Chorizo and Cheese Penne, Sliced Beef with Creamy Horseradish, Breaded Sole with Spinach and Tomato Sauce, Hearty Beef Stew Gratin
Try our favourites!
Along with our new menu items, we're still offering your favourites from over the years. If you haven't seen it yet, check out our Top 6 Meals of 2020. Here were the top three to keep your eyes on this Spring and Summer:
It's hard to beat a classic like meatloaf, especially one that comes smothered in a mushroom and red wine gravy, alongside mashed potatoes and mixed veggies. Check out ours to find out why it's one of our customers' favourite meals.
Perennially at the top of our favourites list, our Hunter's Chicken pays homage to its French heritage with a tomato, wine and bacon sauce. This classic is served with green beans and mashed potatoes.
In 2019 this dish came in at a respectable #5 on our favourites list, but since a surge of popularity last year it has shot to the top, seizing the #1 slot. And it's no surprise why, with tender slices of turkey covered in a citrusy cranberry sauce, and served with red skinned potatoes, stuffing and mashed turnip.
---------
With a change of seasons comes the perfect opportunity to shake things up a bit in your own routine. With that in mind, check out some of the new offerings on our Spring/Summer Menu 2021. Or, if you'd prefer to return to an old faithful, make sure to check out one of our favourite meals from 2021. Whichever you choose, we hope your meals contribute to your happiness in the coming year!
Bon appetit!
Request a FREE copy of our My Menu here!
Don't forget to Like and Follow us on Facebook and let us know which new meal you are most excited about trying!