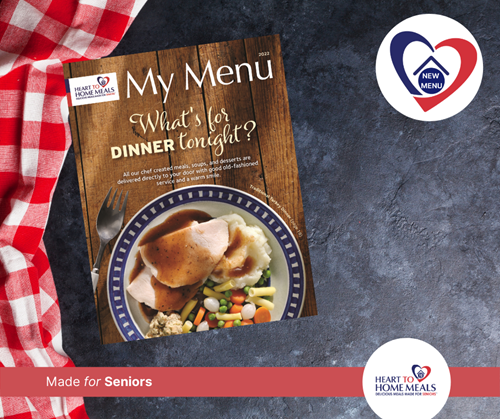 Winter is here, and that means we're looking for meals that fill our stomachs and warm our bodies. Luckily, there's a lot to look forward to for lovers of cold-weather comfort food in our New 2022 My menu. And of course, there's plenty of nutritious options for those who want to maintain a healthy diet over the snowy months.
We've added 14 brand new meals, soups and desserts for those looking to try something new (mushroom lovers will be thrilled) as well as brought back some classics from our Signature Collection. Plus, all the favourites are still in the lineup. 
Here's what you can expect from our New 2022 My Menu:
New Items
Meatballs in Mushroom Sauce: There's nothing much more filling and comforting than meatballs – especially when paired with a rich and savoury mushroom and red wine gravy. This new menu item comes with a side of home fries and mixed vegetables for a healthy and hearty meal.
Savoury Mushroom Chicken Thigh: More good news for mushroom fans, with the new addition of a tender, boneless and skinless chicken thigh, smothered in an earthy mushroom sauce. Accompanying this delicious chicken is a side of fluffy mashed potatoes and green beans.
Blueberry Cake: Sometimes, the day just starts off better with a sweet treat. Try our no-sugar-added blueberry cake that's packed with the sweetness of berries. Perfect for breakfast or dessert!
Hearty Pork with Stuffing: When a small portion just won't satisfy, try one of our Hearty Meals. A new addition to the lineup is our Hearty Pork with Stuffing, which comes topped with gravy and has mashed potatoes and mixed veggies to round out a complete meal.
In addition to the above, we also have new to our meal range which you need to try include; Roast Beef in a Tangy red Wine Sauce, Chicken Souvlaki and Salmon with Roasted Peppers and Tomato. And for dessert, we have a new Iced Chocolate Brownie and Apple Pie Slice.
Returning from the Signature Collection
Chicken with Lemon Pepper Sauce: Cold and dark weather doesn't mean you can't enjoy bright flavours. That's why we're bringing back a favourite from our Signature Collection – chicken breast covered in a tangy lemon sauce with a kick of black pepper. This is served atop a rice pilaf with a side of carrots. 
Barley and Broccoli Risotto: Who says vegetarian meals can't be hearty? Our tasty and filling barley and broccoli risotto is a perfect wintertime dish, with the creamy, nutty barley made richer with the addition of cheese. Rounding out this veggie-friendly meal is a mix of carrots, green beans and corn.
Broccoli and Cheese Soup: There's not much better to stave off the chill than a creamy, silky broccoli and cheese soup. Loaded with the green vegetable, it's also packed with cheddar and parmesan cheese for a flavourful and warming dish. 
Check out some of our favourites!
Not sure what's going to satisfy your craving? Check out our top three favourites for inspiration! And if you haven't seen it yet, check out our Top 6 Meals if 2021.
#3 – Shepherd's Pie: This quintessential, classic English dish is a regular on our Top 6 Meals list. Seasoned ground beef, rich gravy, mashed potatoes, peas and carrots, simple but delicious!
# 2 – Homestyle Meatloaf: Mom made the best meatloaf, and ours is pretty close. A staple in kitchens across the country for decades, our Homestyle Meatloaf comes smothered in a mushroom and red wine gravy and served with fluffy mashed potatoes and mixed veggies.
#1 - Chicken Teriyaki: If you're hungry for the tangy flavours of teriyaki, we've got a perfect solution. Our Chicken Teriyaki comes with stir fried veggies covered in an authentic sauce and served with a generous portion of rice pilaf on the side.
-----
In addition, we've been hard at work refining many of the dishes in our lineup – improving the taste and texture to ensure you enjoy them even more.
Winter is a great opportunity to find a new meal to warm your bones. We've got quite a few for you to try, with the old favourites standing by to return to. Either way, we hope our meals help you start the New Year right!
Don't forget to Like and Follow us on Facebook and let us know which new meal you are most excited about trying!