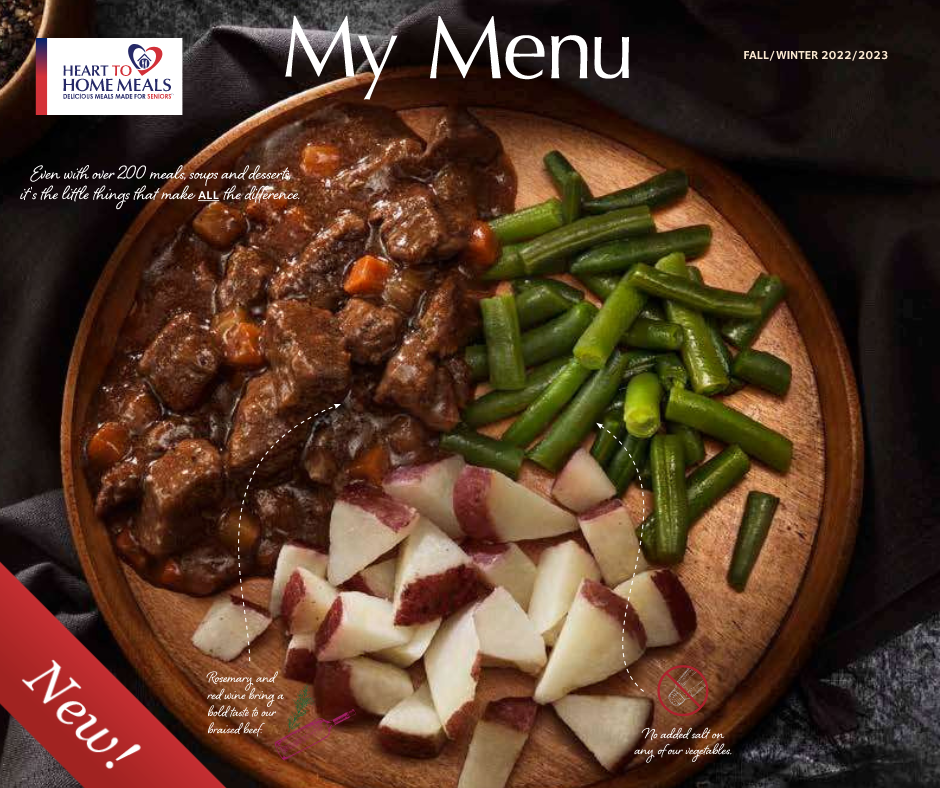 With the dog days of summer fading behind us, and a distinct crispness in the air, the food we crave might begin to change. Luckily, we're always testing new recipes fit for whatever season you're enjoying.
Our new menu comes with several new main dishes to warm you up, along with a couple of sweet dessert options sure to tantalize. And, as always, we balance delicious meals with nutritional concerns, and have a selection of all-time-favourites you can look forward to trying again.
Here's what you can expect from our Fall/Winter 2022/23 menu:
New items
Chicken Thigh in Creamy Tomato Sauce: It's hard to beat the rich flavour and delightful texture of chicken thigh. Combined with a creamy tomato sauce and served with an asparagus pea mix and red-skinned potatoes, this new menu option is bound to be a favourite.
Chicken Pasta Florentine: For people who love veggies almost as much as they love chicken and pasta, our Chicken Pasta Florentine is sure to be a hit. Smothered in a delicious cheddar cheese and spinach sauce, with a medley of vegetables, this hearty meal is packed with nutritional value.
Pork Loin in Bacon Sauce: The only thing that can make pork better? Bacon. And that's exactly what this meal has, with a tender cut of pork loin smothered in a rich and smokey bacon sauce. Completing the meal is a serving of country-style potatoes and mixed veggies.
New England Clam Chowder: It's hard to imagine a way to improve upon the luscious, creamy, sea-food flavour of a clam chowder. But with the addition of bacon, potatoes and onions, we think you'll absolutely adore our version of this East Coast classic.
Raspberry Tart: The sweet, tangy raspberry filling might be the star of this tart, but it's taken to the next level by the flaky, buttery crust which contains it. The perfect way to treat yourself after one of our meals.
Featured Meals
Meatballs in Mushroom Sauce: Mushrooms are a flavour power-house – especially when paired with beef. That's exactly how our mushroom sauce is created, and it makes the perfect topper for tender meatballs and a side of mixed veggies and potatoes.
Meatloaf in Tomato Sauce: Inspired by Chef Tim's mother's recipe, this all-time classic dish elevated with a tangy, sweet sauce that leverages the deep flavour of balsamic vinegar. With the addition of fresh basil, this home-style meal is sure to delight.
Chicken Breast with Gravy Stuffing: With a focus on the quality of the gravy, this dish is a rich and filling take on classic chicken breast. A serving of veggie-seasoned stuffing make this a holiday classic, and the potato and mixed veggie sides make it a complete meal.
Chicken and Vegetable Casserole: Sometimes, it's not the main component of a meal that truly defines it. In this case it's the garden-fresh leeks and herbaceous tarragon that make the dish special. Served with mashed potatoes and mixed veggies, you'll be hard pressed to find a more flavourful chicken dish.
Rosemary Garlic Pork: The defining aspect of this dish is the velvety pork-stock gravy, taken to the next level with a hit of rosemary, and smothered over a healthy serving of pork. A classic pairing of mixed veggies and fluffy mashed potatoes round out this meal.
Salmon in Seafood Cream Sauce: One of our meals that we've tinkered with to take it to the next level, this tender piece of delicious salmon is elevated with a seafood cream sauce that's made of lobster, white wine and fresh cream. Yum! It's served with a hearty side of potatoes and green beans for a well-rounded seafood feast.
Mushroom, Leek and Potato Bake: A favourite of our chef (who admits to sneaking a serving right out of the oven from time to time), this vegetarian casserole is packed with rich cheddar cheese to make it a cold weather comfort-food. It comes with carrots and beans for a healthy veggie side.
With Heart to Home Meals, It's Easy to Look Forward to Colder Weather
Our chefs are always looking for new recipes to delight, and warm you up in the colder seasons. We hope you enjoy some of our new and featured items, or return to an old favourite (our Hunter's Chicken and Spaghetti and Meatballs continue to top our customers' lists!) So as your thoughts turn to warmer sweaters and frosty evenings, consider what dishes you can look forward to that will fill you with warmth.