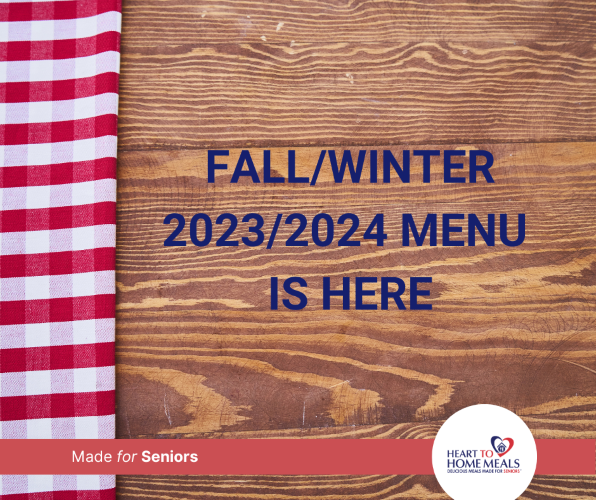 As the weather cools and leaves begin to change their colour, our appetites turn to meals that provide not only nourishment but also a comforting sense of warmth and coziness. It's a time when we seek out dishes that soothe the soul and bring joy to our taste buds. In this season of crackling fireplaces and bundled-up strolls, Heart to Home Meals presents a menu crafted to make every meal a moment of culinary delight.
With this change of seasons, our culinary cravings naturally shift to warm and hearty dishes. It's the season when we yearn for comforting classics and flavorful innovations, and at Heart to Home Meals, we're delighted to introduce our Fall/Winter 2023/2024 menu, tailored to satisfy your seasonal desires.
Discover Our New Creations
Liver and Onions: This beloved classic is back, but it's undergone a total makeover. Enjoy our tender diced liver (a nutritional superfood!) cooked in a rich beef base. We tweaked and tested our recipe until even those who claimed they didn't like liver loved the end result.
Salmon Teriyaki: Succulent salmon glazed with our made-from-scratch teriyaki sauce is making its debut this season. It's great in the microwave, but try this in the oven when you have more time to achieve a scrumptious caramelization.
Vegetarian Bean Chili: An all-new vegetarian dish, the robust flavors in this recipe are reminiscent of classic chili, but without the meat. Look for the green vegetarian symbol throughout the menu to discover more mouthwatering meatless choices.
Chef Choices: Classic Comfort Elevated
Here, we're taking a look at the specific recommendations our chefs make in our new menu. These are the dishes that our culinary artisans hold dear, each with a story, a memory, and a flavor profile that captures the essence of the season. These cherished classics have earned their special place in our menu, and we can't wait to share them with you.
Beef Stew: To take this comforting classic to the next level, we begin with tender beef chuck, slow-cook it in a rich and flavorful beef broth, and add a splash of balsamic vinegar to further elevate the flavor. Comes with mashed potatoes and green beans.
Beef Teriyaki: Working internationally showed Chef Marc the true potential of beef teriyaki. This dish is completely transformed with tender beef cooked to perfection in our crowd-pleasing made-from-scratch teriyaki sauce. Served with a vegetable rice pilaf.
Country Chicken: Chef Marc calls this redesigned dish 'rustic comfort' because it reminds of big family feasts at the cabin. The new, richer gravy and homestyle stuffing taste like you made them in your own kitchen. Served with mashed potatoes, carrots, and stuffing.
Chicken Pasta Florentine: Every bite of this dish is a delight. The twists of rotini pasta are perfect for holding onto our new creamier, cheesier sauce. It's a favorite recipe this season, and it's served with a delightful side of mixed vegetables.
Pork with Stuffing: Especially in winter, gravy is everything, so we upped the gravy game of this recipe with a much-more-intense pork base. If you've tried this dish before, you won't believe the difference! It's accompanied by creamy mashed potatoes and a medley of mixed veggies.
Tuna Pasta Casserole: A classic casserole revamped based on our chef's mom's recipe. It's made with simple ingredients that shine—like penne, vegetables, tuna, and cheddar. Served with a side of mixed veggies.
Split Pea and Ham Soup: Our chefs sought to recreate and improve this 400-year-old French Canadian classic. It even made the Reader's Digest list of top 10 iconic Canadian dishes. It's a hearty and flavorful soup that's sure to warm your soul.
Our Favorites: Timeless Classics
These classics have stood the test of time, bringing comfort and satisfaction to countless hearts and homes.
Braised Beef: Dive into the comforting depths of our Braised Beef. Tender diced beef is lovingly braised in a rich and flavorful gravy, creating a flavour harmony that will dance on your taste buds. Served alongside crisp green beans and perfectly seasoned red-skinned potatoes, it's a hearty meal that warms you from the inside out.
Traditional Turkey Dinner: There's something inherently heartwarming about a proper turkey dinner. Savor each bite of sliced white turkey breast, generously ladled with delicious gravy. It's a taste of home, especially when accompanied by our homestyle stuffing, creamy mashed potatoes, and a medley of perfectly cooked vegetables.
Chicken in a Creamy Mushroom Sauce: Our Chicken in a Creamy Mushroom Sauce is a dish that stands the test of time. Picture it – tender chicken breast, seared to perfection, topped with a luscious creamy mushroom sauce that will leave you craving another portion. Paired with country-style potatoes and vegetables, it's a dish that defines comfort.
Beef Goulash: Prepare your taste buds for a journey to the heart of Eastern Europe with our Beef Goulash. This rustic stewed beef, seasoned with aromatic paprika, is a harmonious blend of savory flavors. It's served generously over egg noodles, creating a satisfying and soul-warming dish that you'll savor to the very last bite.
Vegetarian Cassoulet: We've taken a classic French dish and given it a delicious vegetarian twist in our Vegetarian Cassoulet. This flavorful bean and vegetable stew is a medley of tastes and textures that will delight your senses. Enjoy it alongside creamy mashed potatoes, and you have a meal that's both hearty and heartwarming.
Chicken Teriyaki: Our Chicken Teriyaki is a symphony of sweet and savory flavors that have made it a timeless favorite. Succulent chicken and crisp vegetables are expertly mixed with our authentic teriyaki sauce. The fluffy vegetable rice pilaf is the perfect accompaniment, creating a meal that's as tasty as it is satisfying.
If you haven't already, you can order a copy of My Menu here.
****
At Heart to Home Meals, we believe that the classics never go out of style. These beloved dishes have earned their place in our hearts and on our tables year after year. As the seasons change and the weather cools, these timeless favorites offer a comforting embrace, making every meal a moment of nostalgia and joy.