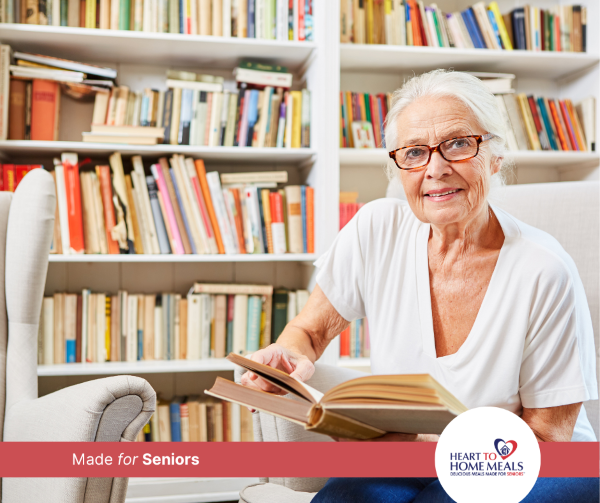 A great book can be your companion, transporting you to another time and place, taking you on great adventures, making you laugh, and leaving you guessing until the very end.
Reading not only increases mental stimulation, but can also improve your memory, can reduce stress, can help induce sleep, can be done anywhere (think: inside, outside, sitting up or lying down), and with the right group of people, can get you socially engaged with others in discussion or even a book club.
While there are countless titles available, we've rounded up some of the most crowd-pleasing book recommendations for seniors, guaranteed to keep you turning the page.
Easy Reading
The Hundred-Year-Old Man Who Climbed Out of the Window and Disappeared, Jonas Jonasson
This fun and feel-good read begins on the century birthday of Allan Karlsson, a celebration he decides to escape from, as the title indicates, his bedroom window. His journey brings with it hilarious hijinks and reflective moments sure to keep you entertained.
The Thursday Murder Club, Richard Osman
In this debut novel, four residents at a quiet retirement village join forces to investigate at unsolved crimes – this unlikely group of friends take the reader on a hilarious, mysterious, and at times, poignant journey.
Historical Fiction
The Nightingale, Kristin Hannah
The first title to appear on many Top 10 book lists, this page-turner features two sisters living in France during the Nazi invasion, a story of choices, consequences, and the search for freedom, survival, and love during World War II.
Hamnet, Maggie O'Farrell
Named a New York Times Notable Book, Hamnet reflects the bestselling authors' fascination with Shakespeare, marriage, family, and loss, all unfolding in the 1580s in Warwickshire.
Classic Fiction
The Old Man and the Sea, Ernest Hemingway
Papa Hemingway details an elderly Cuban fisherman's relentless battle with a giant marlin, complete with powerful themes of courage, personal triumph, overcoming loss, and transformation.
To Kill a Mockingbird, Harper Lee
A universally lauded classic, this Pulitzer Prize-winning novel is a dramatic and deeply moving story of racism and humanity in a sleepy Southern town in the 1960s.
Books-Turned-Into-Movies
A Man Called Ove, Fredrik Backman
The life of grumpy Ove gets upended when a friendly young neighbor with young children moves next door. Funny, and at times, heartbreaking, this bestseller will have you exploring the joys of intergenerational friendship.
The Help, Kathryn Stockett
Poignant, and at times hopeful and humorous, this story explores the 1960s in the South, a tale of the racial, cultural, and socioeconomic differences that marked the era.
Non-Fiction Easy Reading
I Feel Bad About My Neck, Nora Ephron
The late journalist, writer, and filmmaker Nora Ephron (think: When Harry Met Sally, Sleepless in Seattle, to name a few), opines on aging in funny, moving, and relatable ways.
I'm Too Young to Be Seventy, Judith Viorst
The beloved Viorst shares her wry observations on turning seventy, offering up witty and wise poems on marriage, milestones, and middle-aged children.
Too busy reading to cook? Make your life even more enjoyable and click here to get Heart To Home Meal's delicious chef-designed meals delivered right to your door.