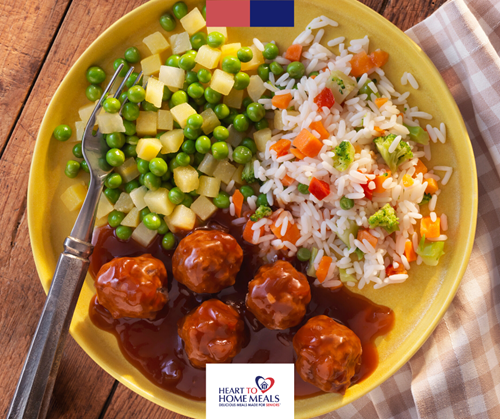 Your Top 6 Meals of 2019!
Another year has passed, and for us at Heart to Home Meals, this meant another year of delicious dishes. From hearty meat entrees to delightful and light veggie sides, there was something for every palate and appetite in 2019, and things will only continue to get better!
Our menu is constantly evolving to reflect the feedback of our customers and incorporate new recipes. Some meals, however, stand out among the rest in 2019 as being particularly popular.
Here are the 2019 Top 6 Meals enjoyed most by you, our customers:
#6 - Braised Beef
The culinary technique of braising, is one that artfully combines the best of both worlds -- the quick heat of frying to caramelize and darken flavours, and the low, slow stewing in the oven for the perfect melt-in-your-mouth textures. Our Braised Beef is a delicious example of this classic cooking style, which comes covered in a rich and flavourful gravy, served with green beans and red-skinned potatoes.
#5 - Turkey With Cranberry Orange Sauce
It's impossible to think of Turkey without thinking of Thanksgiving. It has become such an essential part of the joyous celebration, that they're almost inseparable. But whether you're in a holiday kind of mood, or just craving the iconic dish, our Turkey With Cranberry Orange Sauce is sure to hit the spot, especially when its served with stuffing, potatoes, and mashed turnip.
#4 - Shepherd's Pie
No one typically argues that mashed potatoes don't make an excellent side to beef. But it takes true brilliance to actually combine the potatoes and meat, which is exactly what the inventor of Shepherd's Pie did. Our version of this classic dish comes with a delicious seasoned beef, in a rich gravy and is served with a side of peas and carrots.
#3 - Hunter's Chicken
While every country possesses their own version of this classic dish, it's origins come from the French countryside. The Heart to Home Meals version, which remained one of our most popular dishes in 2019, shows its French roots with a tomato wine sauce, with mushrooms and bacon. Complimenting the savoury chicken and sauce are mashed potatoes and green beans. This was #1 on the list in 2018.
#2 - Homestyle Meatloaf
The humble meatloaf has been a staple of kitchens across the country for decades, and it's no wonder why. Truly greater than the sum of its parts, meatloaf offers a savoury, satisfying meal packed full of goodness. Our Homestyle Meatloaf comes in a mushroom gravy with a hint of red wine, and is served with mashed potatoes and mixed vegetables. This was one of our customers favourite meals of 2019 and will surely remain a contender in the year to come.
#1 - Chicken Teriyaki
Chicken may not exactly bring to mind bold and exciting flavours, but when paired with a rich, tangy Teriyaki sauce, Chicken can really shine as the star of the show. The chicken and vegetables are mixed with an authentic teriyaki sauce and is paired with a fluffy vegetable rice pilaf, no wonder it was our most popular meal of 2019.
2019 was a great year for many things, but especially food at Heart to Home Meals. We served up some old and new favourites, which our customers thoroughly enjoyed. As we constantly innovate our menu, there will be new favourites to explore in 2020 and the years ahead.
Have you tried any of the Top 6 meals? Which meals would make up your Top 3? Let us know on Facebook!
Don't forget to explore all our delicious meals by visiting our website here: www.hearttohomemeals.ca