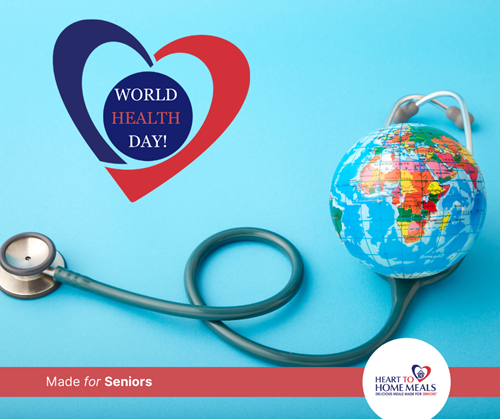 Every year on April 7th, the World Health Organization (WHO) makes time to recognize a group of people, health issue, or health goal to focus on in the coming year. By shedding light and raising awareness, WHO is able to build support for important causes affecting health all around the globe. Last year, the theme was "Supporting Nurses and Midwives" -- an especially relevant theme given the pandemic's impact on healthcare workers.
For this year, the subject is "Building a Fairer, Healthier World" with the aim of bringing awareness to a healthcare divide that separates developing nations from the rest of the world, putting many people's welfare in jeopardy, especially seniors. Poverty is a driving cause of health inequity, and WHO is campaigning for a global, cross-border approach to ensure that people who need help, can get help.
Building a fairer, healthier world is far from a simple call to action. Luckily, WHO outlines some tactics that leaders around the world can employ which will help increase global healthcare equality.
A Call to Action from Global Leaders
For an initiative of this scale, it's essential that global leaders hear the call to action. While this of course can include high-up politicians like the Prime Minister, even local and community leaders can aid the cause by raising awareness and funds to fight against global health inequity. Here are some approaches they can take:
Work Together: Like many things, this initiative is best accomplished when like-minded people from all over the world collaborate and work towards the same goal. Rather than expecting one (or a handful) of nations or leaders to take on the brunt of this issue, it's imperative to extend the call far and wide, and engage leaders around the world who have not (and may not traditionally) make global health inequality an issue.
In addition to casting a wide net for leaders, working together can also be a community affair. With World Health Day providing a perfect opportunity, take a look within your own community to connect with others who can support and contribute to this cause. It might be as simple as raising awareness as your book club's Zoom meeting, or actively sharing some of the WHOs resources (which can be found here.) Whatever approach leaders, communities and individuals take, working together will be what has the greatest impact.
Collect Reliable Data: With a task as large as tackling global health inequality, a concrete plan based on firm data and research is absolutely necessary. It's not enough for Governments to acknowledge the issue, and it isn't even sufficient to throw money at the problem. For real, meaningful and lasting change, large-scale studies and data collection will be needed to identify affected demographics, and create strategies that account for the unique needs of groups around the world.
Per the first call to action, data collection will require a great deal of "working together." Countries that are affected most by health inequality will often have the best data on the tolls it is taking on their population, but may not have the resources to combat the underlying issues. By sharing this data, and working with more privileged countries to conduct further research, we can build strategies that directly target communities that are made vulnerable due to gender, age, income, education, migratory status, disability and geographic location.
Tackle Inequalities: You might be asking yourself, "Wait -- isn't the whole point of this World Health Day to tackle inequalities?" And you'd be right! Except, as the WHO outlines it, there are systemic, root inequalities that need special attention first, as they are the underlying cause for many of the health inequalities that can be found around the world.
WHO calls for a "whole-of-government approach to tackling the root causes of inequities and increase investment in primary health care." Again, it's not merely enough to simply increase funding (although that is an important step to improving healthcare.) Governments need to adopt programs that tackle inequalities like race, gender and age discrimination to challenge the institutions that actually underly health inequality first.
Act Beyond Borders: While much of this year's World Health Day is about a broad focus on global health inequalities, this call to action specifically addresses the COVID-19 pandemic, and the global teamwork required to end the pandemic. While it's only natural that countries around the world are laser-focused on vaccine distribution among their own population, when it becomes possible to do so, countries need to begin to turn their attention beyond their borders to the developing world, which has been hit hard by the pandemic but often lacks the resources to recover quickly from it.
It's essential for all countries to recognize COVID-19 as a global phenomenon. It's not something that can be contained by borders, and neither should the global approach to combating it. In the spirit of working together and tackling inequalities, the WHO is calling on nations that are having success fighting the pandemic to soon turn their attention to countries without the resources to combat it as effectively.
------------
World Health Day is almost here. This year's topic is more relevant than ever, especially with the struggles and healthcare inequalities many seniors have faced over the last year. While much of the action has to come from national leaders, raising awareness and having conversations about global health inequality is a great first step that you as an individual can take to recognize this year's cause.
Do you have questions about senior nutrition? Download our FREE eBook to learn more: Click here to Download NOW!
Dont forget to "Follow" and "Like" us on Facebook