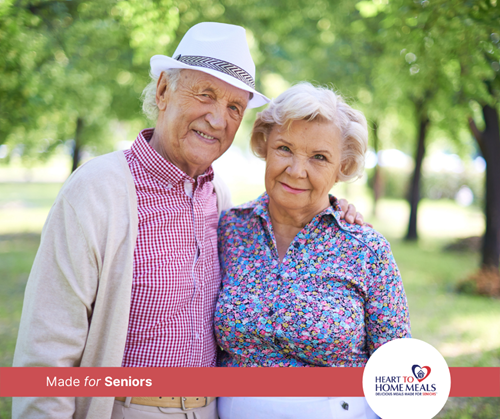 Three Things to Keep in Mind this National Seniors Day
Every October 1st, Canada recognizes an important occasion -- National Seniors Day. Officially adopted by the Canadian Government in 2010, and celebrating the first National Seniors Day in 2011, this year marks the tenth anniversary of this important celebration of Seniors across the country.
National Seniors Day also coincides with the UNs International Day of Older Persons, which acts as a global focal point on issues that affect seniors around the world. This helps shed light on issues seniors may experience in developing nations that people and governments in more developed nations aren't aware of.
Here in Canada, National Seniors Day is about focusing on how we can improve the experience of growing older for all Canadians. This includes combating isolation, improving access to healthcare, making sure communities are accessible for those with mobility issues, and checking in on the Seniors in all of our lives.
A major supporter of National Seniors Day is the National Association of Federal Retirees. They identify several areas that should be given special attention to this October 1st. Here are three causes to consider this National Seniors Day:
Independence
One major pillar of happy and enjoyable senior years is maintaining independence. In this context, independence doesn't mean doing everything alone -- in fact it can be quite the opposite. Instead, this National Seniors Day, consider how the world can be more accessible to older folks, allowing them to live the way they want.
For instance, mobility issues can make journeying longer distances tricky for some. This can include getting in and out of buildings, crossing busy streets, or grocery shopping. Encouraging a community mindset that recognizes physical accessibility for seniors can lead to design changes beneficial to their independence.
Another thing to consider is proximity to healthcare. For independent seniors, knowing they have access to medical care, both for routine check-ins and in case of emergency, can bring peace of mind.
Finally, access to healthy, enjoyable food is key for seniors. Part of Heart to Home Meals' mission is providing extremely accessible, healthy and delicious food options for seniors who may be less inclined to visit a busy grocery store, or cook labour-intensive meals. Ensuring accessibility and independence is something we pride ourselves on.
Health and Activity
A big part of National Seniors Day is considering the health of seniors, and how our country can help improve it. This can be accomplished by developing programs and initiatives that facilitate activity and exercise for people as they age.
Regular exercise, both before and after we get old, is a key part in maintaining health and mobility. However, it's not always easy for seniors to participate in the kind of low impact activity that can be good for their health without posing risks. Through community organization, walking groups, aqua aerobics, and other accessible group activities can encourage healthy lifestyles for seniors.
National Seniors Day can be a great moment for us to reflect on our own activity levels. Have you had a chance to go for a walk recently, or do some low impact exercise? Consider getting in touch with some friends and family and go for a stroll, or check out group activities for seniors in your neighbourhood.
Quality Care Closer to Home
As we get older, health care accessibility becomes increasingly important. As we mentioned above, it's not just for emergencies -- maintaining health is about regular check ins, and being able to get necessary prescriptions and medications, without the distance being daunting.
On National Seniors Day, focusing on the quality of our healthcare providers, and their proximity to seniors is essential. For healthy living, quality of life and basic independence, healthcare accessibility and quality is a must for seniors. Sharing this with community leaders and elected officials will make it clear that this is a priority.
One way to do this, as the National Association of Federal Retirees notes, is to create "age-friendly communities" where seniors can reliably access healthcare, and avoid the negative consequences of isolation.
It also means thinking about, recognizing and thanking caregivers. Professionals who provide care, either live-in support, healthcare workers, or staff at senior communities, are absolutely necessary to achieving the goals that National Seniors Day is about.
Part of this support is simple -- sharing your thanks in person or on social media for caregivers who've helped you is a great way to make them feel welcome and let them know they're important. And part of it is a bit more practical -- become an advocate for fair wages and government support for caregivers. You being there for them where it counts will help them be there for seniors when it counts.
-----------------
October 1st is National Seniors Day, and it's also the International Day of Older Persons. There are unique ways that seniors can be celebrated, and part of that is taking serious looks at the challenges they face, both in Canada and around the world.
Heart to Home Meals is delighted to celebrate National Seniors Day with everyone, and reaffirm our commitment to making independent, healthy living more accessible to seniors than ever before.
Do you have questions about senior nutrition? Download our FREE eBook to learn more: Click here to Download NOW! 
Don't forget to "Follow" and "Like" us on Facebook