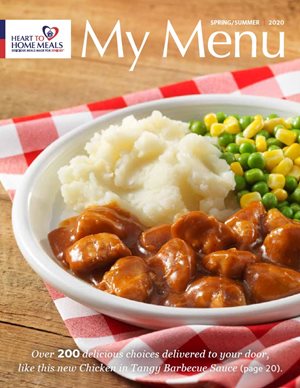 A Taste of Spring and Summer - Try One of Our New Meals!
Hello barbecue season!
We're excited to be able to share with you our best ever Spring / Summer menu! It's time to soak in a little more sunshine and break out a lot more barbecue sauce. Our very own Chef Tim has been busy in the kitchen creating some delicious new meals, and is thrilled to introduce you to some new dishes, including Pork Loin in Smokey Barbecue Sauce and Chicken in Tangy Barbecue Sauce. Both of these meals taste like you're indulging but are actually low in saturated fat and high in fibre.
Also new for spring and summer are Honey Rosemary Chicken and Rosemary Garlic Pork. Why rosemary? First of all, it's absolutely delicious and secondly, it offers a range of health benefits.
Every season Chef Tim brings you some tasty new ideas to try across our Standard, Hearty and Mini ranges. Other new and tempting meals include:
Breaded veal cutlet topped with red wine gravy and mushrooms. Served with a rice pilaf and beans.
Tuna, penne noodles, and vegetables in a cheese sauce casserole paired with a side of mixed beans and carrots.
A larger portion of macaroni pasta in a delicious cheddar cheese sauce served with a side of green beans and carrots. As delicious as our standard Macaroni and Cheese, just for larger appetites!
A smaller-sized penne pasta in a creamy sauce with tomatoes, zucchini, carrots, onion and navy beans.
Steak stewed with crushed tomatoes, red and green peppers, and diced onions served with a fluffy vegetable rice pilaf.
Try Our Favourites!
Have you tried any of our most tempting and delicious, popular dishes? You can read about our TOP 6 MEALS OF 2019 here, or you can try some for yourself!
While every country possesses their own version of this classic dish, it's origins come from the French countryside. The Heart to Home Meals version, was our third most popular dish in 2019.
The humble meatloaf has been a staple of kitchens across the country for decades, and it's no wonder why. Our Homestyle Meatloaf was our second most popular meal of 2019, probably because it comes in a mushroom gravy with a hint of red wine, and is served with mashed potatoes and mixed vegetables.
Our most popular dish of 2019, our chicken is paired with a rich, tangy Teriyaki sauce, and can really shine as the star of the show. The chicken and vegetables are mixed with an authentic teriyaki sauce and is paired with a fluffy vegetable rice pilaf.
----------------
A new season means a great opportunity to try something new from Heart to Home Meals. With plenty more to choose from, you might find your next favourite dish. And if you're simply looking for something a bit different than what you've been enjoying so far, we hope you'll try an item from our TOP 6 MEALS OF 2019.
Visit our website today to see all the meals available in our Spring / Summer Meun www.hearttohomemeals.ca
Request a FREE copy of our My Menu here!
Don't forget to Like and Follow us on Facebook and let us know which new meal you are most excited about trying!
Bon appétit!